Influencer Goals
Behind​ ​the​ ​Scenes:​ ​Holiday​ ​Shoot​ ​with​ ​Joy​ ​Corrigan​ ​&​ ​Vanessa​ ​Simmons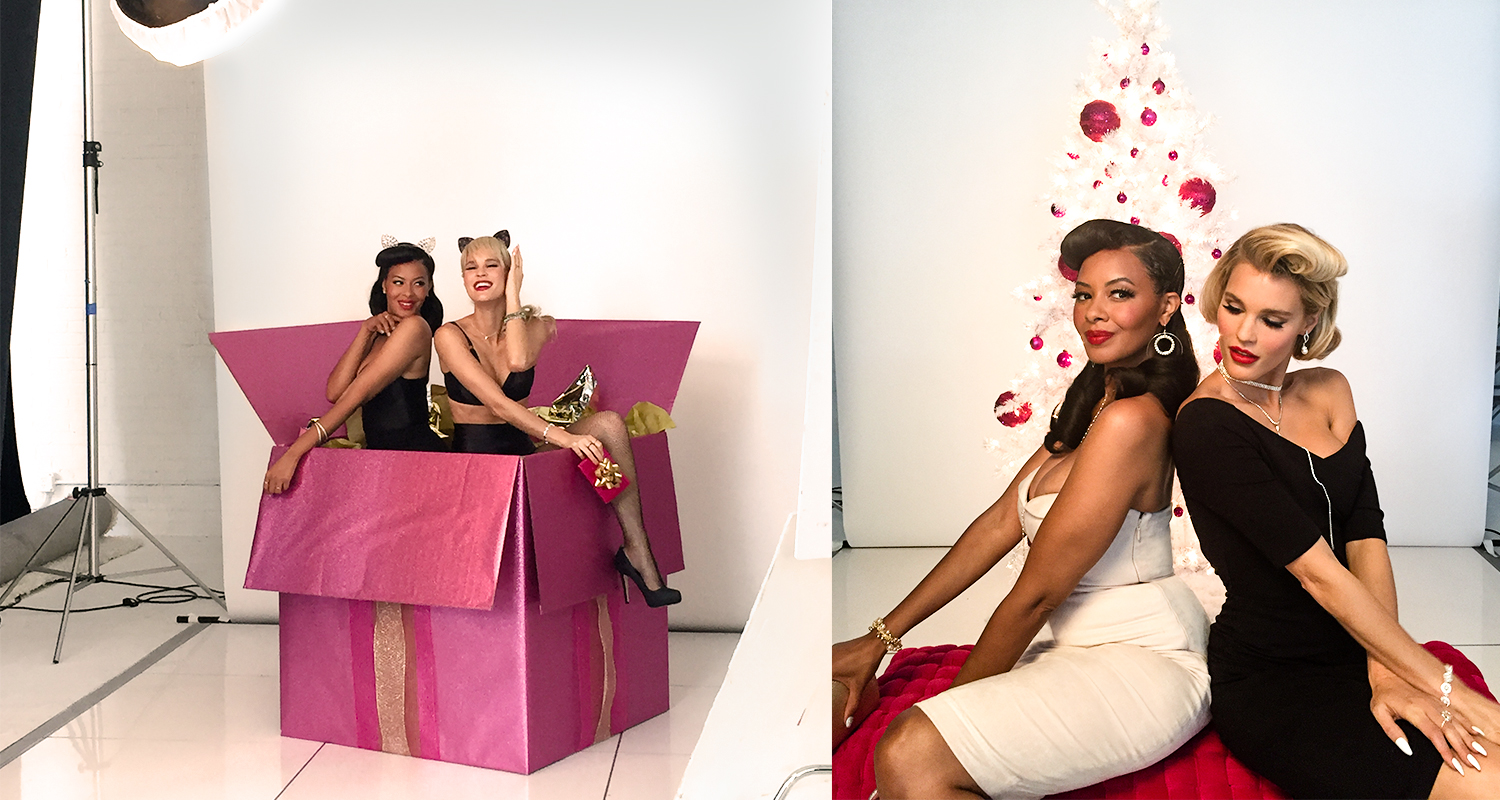 While​ ​most​ ​people​ ​are​ ​adjusting​ ​to​ ​Fall,​ ​we're​ ​already​ ​getting​ ​excited​ ​for​ ​the​ ​holidays​ ​here at​ ​Icing!
We​ ​recently​ ​had​ ​a​ ​holiday​ ​photoshoot​ ​in​ ​Chicago​ ​with​ ​some​ ​of​ ​our​ ​absolute​ ​faves,​ ​Joy Corrigan​​ ​&​ ​Vanessa​ ​Simmons​!
Here's​ ​some​ ​of​ ​our​ ​favorite​ ​behind-the-scenes​ ​shots​ ​from​ ​our​ ​#JingleMyBells​ ​shoot​ ​in​ ​the Windy​ ​City!
Vanessa​ ​&​ ​Joy​ ​got​ ​the​ ​model​ ​treatment​ ​while​ ​rocking​ ​some​ ​of​ ​our​ ​favorite​ ​holiday​ ​looks​ ​- Joy​ ​in​ ​our​ ​Faux​ ​Crystal​ ​Row​ ​Choker​ ​Y​ ​Necklace​​ ​&​ ​Blush​ ​Pearl​ ​Drop​ ​Earrings​​ ​and​ ​Vanessa​ ​in our​ Double​ ​Circle​ ​Drop​ ​Earrings​ ​with​ ​Faux​ ​Pearls​​ ​&​ ​Glitter​ ​Clutch​!
The​ ​ladies​ ​took​ ​a​ ​walk​ ​on​ ​the​ ​wild​ ​side​ ​with​ ​our​ ​Hematite​ ​Bling​ ​Cat​ ​Ears​​ ​and​ ​our​ ​Black​ ​Lace Cat​ ​Ears​!

Joy​ ​absolutely​ ​slayed​ ​in​ ​some​ ​of​ ​our​ ​fave​ ​holographic​ ​trend​ ​pieces​ ​-​ ​Holographic​ ​Cat​ ​Ears,​ ​Holographic​ ​Crossbody​ ​Bag​,​ ​and​ ​Silver​ ​Chrome​ ​Faux​ ​Nails​.

Vanessa​ ​got​ ​cozy​ ​with​ ​some​ ​of​ ​our​ ​favorite​ ​beauty​ ​products​ ​-​ ​Makeup​ ​Palette​ ​Kit​ ​and​ ​Makeup​ ​Brush​ ​Set​ ​-​ ​while​ ​rocking​ ​our​ ​Silver​ ​Ross​ ​Open​ ​Cut​ ​Cat​ ​Ears!
We​ ​love​ ​this​ ​shot​ ​of​ ​Joy​ ​with​ ​our​ ​makeup​ ​kits!​ ​She​ ​looks​ ​amazing​ ​in​ ​our​ ​black​ ​necklace ​and​ ​cat​ ​ears​.
For​ ​the​ ​ugly​ ​sweater​ ​parties,​ ​Icing​ ​has​ ​all​ ​of​ ​the​ ​accessories​ ​you​ ​could​ ​ever​ ​dream​ ​of!​ ​We love​ ​the​ ​HoHoHo​ ​Glasses​ ​&​ ​Your​ ​Sweater​ ​Is​ ​Ugly​ ​Hat​!
And​ ​that's​ ​a​ ​wrap!
We​ ​hope​ ​this​ ​behind​ ​the​ ​scenes​ ​look​ ​gets​ ​just​ ​as​ ​excited​ ​for​ ​the​ ​holidays​ ​as​ ​we​ ​are!
Check​ ​out​ ​more​ ​of​ ​our​ ​holiday​ ​gifts,​ ​accessories​ ​and​ ​makeup​ ​on​ ​our​ ​website!​ (​ link​ ​to​ ​holiday section)​ ​#JingleMyBells